Feel Good Hearty Granola Bars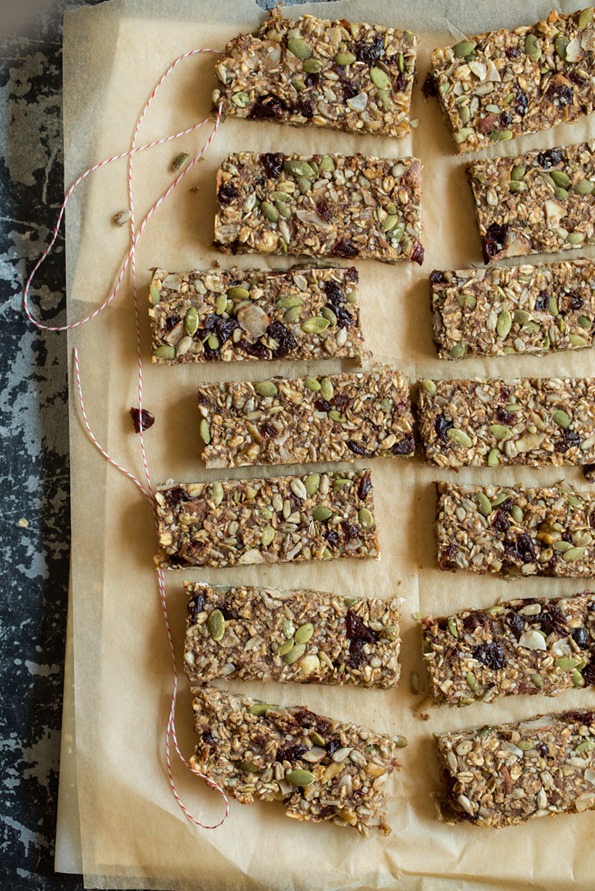 I'm already starting to think about how I will fuel myself (quickly) after the little bambino arrives this fall. I'm not one who functions well with long periods between meals, so planning in advance is going to be my best ally. The healthier and more balanced, the better I'm sure I'll feel. Bring on the healthy, hippie foods, I say! In addition to freezer friendly meals – like
veggie burgers and balls
,
chili
,
soup
, falafel,
enchiladas
, pasta + pesto sauces,
burritos
, etc. – I hope to prepare snacks in advance that I can individually wrap and store in the freezer. Things that I can toss into my purse or quickly unwrap when I need a boost will be so handy. Amidst uncertainty, it always feels good to have a back up plan (even if my reality will be take out food more than not).
These lightly-sweet granola bars are a great option because they are only sweetened with bananas and sweetened dried fruit. No sugar crashes here! You could even remove the dried fruit if you really wanted to, but I love how the dried cherries provide a pop of sweetness throughout. But it's not what the bars don't have – it's what they do have. How about hemp seeds, sunflower seeds, walnuts, rolled oats, almonds, pumpkin seeds, cinnamon, banana, and more. These wholesome bars are crunchy, hearty, and chewy in the best way possible. And super filling thanks to the balance of protein, fibre, carbs, and healthy fats. One bar clocks in at 6.6 grams of protein and almost 5 grams of fibre (you can see the complete nutritional info in the recipe below). If you wanted to boost the protein even more, you can increase the hemp seeds (and maybe reduce the sunflower seeds a bit).
For even more staying power, try spreading on some nut or seed butter (with
chia seed jam
to make it a party!) or even a bit of coconut oil. That's never a bad idea. Is it snack time yet?